Georgia – Armenia trip report
In May 2017, I lead a group to The Republic of Georgia and Armenia. Some of the group members had traveled with me previously and enjoyed our intimate, like-minded group and in-depth experience-focused travel. They encouraged me to form a kind of "Facebook-based travel club," so they could easily find out about future trips and share their experiences together online.
So Schleppers Club was born. Today we have 100 members online. For anyone interested, here is Schleppers Club where request can be sent to join.
The first official "Schleppers Club" trip was to Baltics and it was enjoyed by all.
This year, the second official Schleppers Club trip was in May 2017 and took place in Georgia and Armenia.
Why Georgia and Armenia? They are relatively undiscovered countries and our well group wanted something exotic but comfortable to explore. We are also looking everywhere for Jewish Heritage sites and these countries provided it. Excellent food, wine, beautiful scenery, ancient Christian Churches, culture and the wonderful friendly people attributed to the fact it was a good choice for us to explore.
A little bit of Republic of Georgia.
Legend says that Georgia is the country God was saving for himself.
Current situation.
The NATO Parliamentary assembly was meeting in Tbilisi Georgia's Capital, at the time of our visit. The Head of the Georgian delegation gave these stirring remarks: "Moscow has militarily violated Georgia's territorial sovereignty and has illegally occupied the Georgia regions of Abkhasia and South Ossetia (22% of the country). Russian military aggression and its provocations in various forms towards its neighbors have become routine by the Kremlin. Therefore, it is crucial that we have a visible progress on both the practical and political side of Georgia's EU and NATO membership process".
The President of this assembly said "This year NATO troops and equipment arrive in Poland and the Baltic States". Allies have also agreed to increase NATO's presence in the Black Sea and to straighten cooperation with Georgia and Ukraine in this area". The Hon. Michael R. Turner (OH Congressman) is a vice – chairperson of the Defense and Security Committee for NATO. During Georgia's war with Russia in 2008 America helped to train soldiers, and Russia retreated. Since then there are 110,000 internationally displaced refugees in 6 camps with EU money. Georgia remains by far the largest non-member contribution to NATO missions in Afghanistan.
Georgian life: Citizens pay a 20% flat tax and get free basic health care. The smallest village has a clinic. Serious patients are taken to Tbilisi; 70% of operation costs are covered, but medicine and drugs are expensive. The average income in the government sector is $200/month USD, but engineers may get $500. Women retire at 60, and men at age 65. Pensioners receive $100/month. Men and women get the same salaries, and women take 3 months maternity leave with pay. Cemetery plots cost $6000 for 2 spaces! Unemployment is 16%. However, in former Soviet industrial areas the rate is 60%, but this includes self-employed who don't get money from the government. Out of the 4.6 million population 1 million are labor emigrants, who send money back here to support family members.
Tbilisi
About 1.07 million people of 3.7 million people in Georgia live in the capital. During communist times propaganda fed many to the cities to work in the factories. Georgia gained its independence in 1991 and it is known for its healing hot Sulphur springs, wine and religious tolerance. It was on Silk Road from Asia to Europe and has been invaded by Persians, Arabs, Turks, Mongols and Russians. There are 105 nationalities in this agricultural country.
Edouard Shevarnadze was a president of Georgia in 1995-2003. While he sold electric power elsewhere, the citizens used candles and children wore their coats in school during cold months. Rampant lawlessness led to Rose Revolution and to his forced resignation.
Schools: There is no illiteracy, because 9 years of school are compulsory, and parents are charged if students don't go. Russian language study is compulsory to know the enemy's language, especially in political meetings. High school students take English, French, or German, but most chose English, the language of the Internet. In 2016, 35,000 applied to universities and were tested in language, IQ skills, and their area of study to determine the amount of scholarship to be awarded.
Flag: The white background has 4 red crosses representing 4 of Christ's wounds: 2 in His wrists, 1 for His feet, and 1 for his side.
How do you get there.
We flew on Qatar air from Miami. Some flew on Lufthansa from NYC but connection in Munich has long layover.
We arrived on May 27 and had meeting cocktails in the lounge. Hotel Marriott is the center of the city, on Rustaveli St. and is very nice 5* hotel.
May 27, day 1 – Our first touring day in Tbilisi.
Claire Allfree recommends getting lost in the splendor of the Georgian capital. She writes: "These days, its fine Art Nouveau buildings and pretty, traditional balconied houses are what some would call shabby chic: if any city needed a good lick of Farrow and Ball, this one does. Yet new hotels and shopping malls are springing up and gentrification is under way in its more historic districts. Determinedly looking towards Europe, Tbilisi feels like a city finally coming into itself. In other words, get here fast before everyone else does." Katie Melua, the singer, is another fan - it is, after all, her childhood home. "It's steeped in history - the Old Town, with its twisting alleys, is particularly fascinating," she says. "It's a city that's very much off the beaten track. Not many tourists have been there, which makes it all the more worth visiting."
We saw Georgia Military Highway from the top of the Hill. This 130 mile road along the Eastern side of greater Caucasus range, offers glorious scenery as it rises by deep gorges, alpine valleys, and snow-capped peaks toward the Russian border.
We visited Ananuri Fortress c 16th C. The high 4-5 ft thick turreted walls protected 3 churches, and a tunnel gave access to the river. The biggest tower has 7 levels for living and for combating invaders from the North. Frescoes in the main cathedral include the Last Judgement.
Black and White: The confluence of the Kabakhi and Khda Rivers create a striking contrast of dark and light.
We visited synagogue and Jewish museum. Kakha Bendukidze was a wealthy Jew who gave Georgia a 9.3% economic growth following the Rose Revolution, created a charity called Knowledge Foundation and established the Free University of Tbilisi and the Agricultural University of Georgia. When asked "Why?" he replied, "There are things which money can't buy".
Cylindrical stone memorial with mosaics: this isolated symbol of strength is a reminder of 1783 Russia – Georgia Military treaty for Russia to defend Georgia, which was broken in 1801 when Russia invaded the country.
Cross (Jvaria ) Pass is the highest point at 2,935m.
Gergeti Trinity Church and monastery (2170m) sits on a plateau above town of Kasbeghi/Stepantsminda and below Mt. Kazbek (16,512 ft). In time of danger precious relics were brought in 1801 this 13C church for safe-keeping.
May 28, day 2. Tbilisi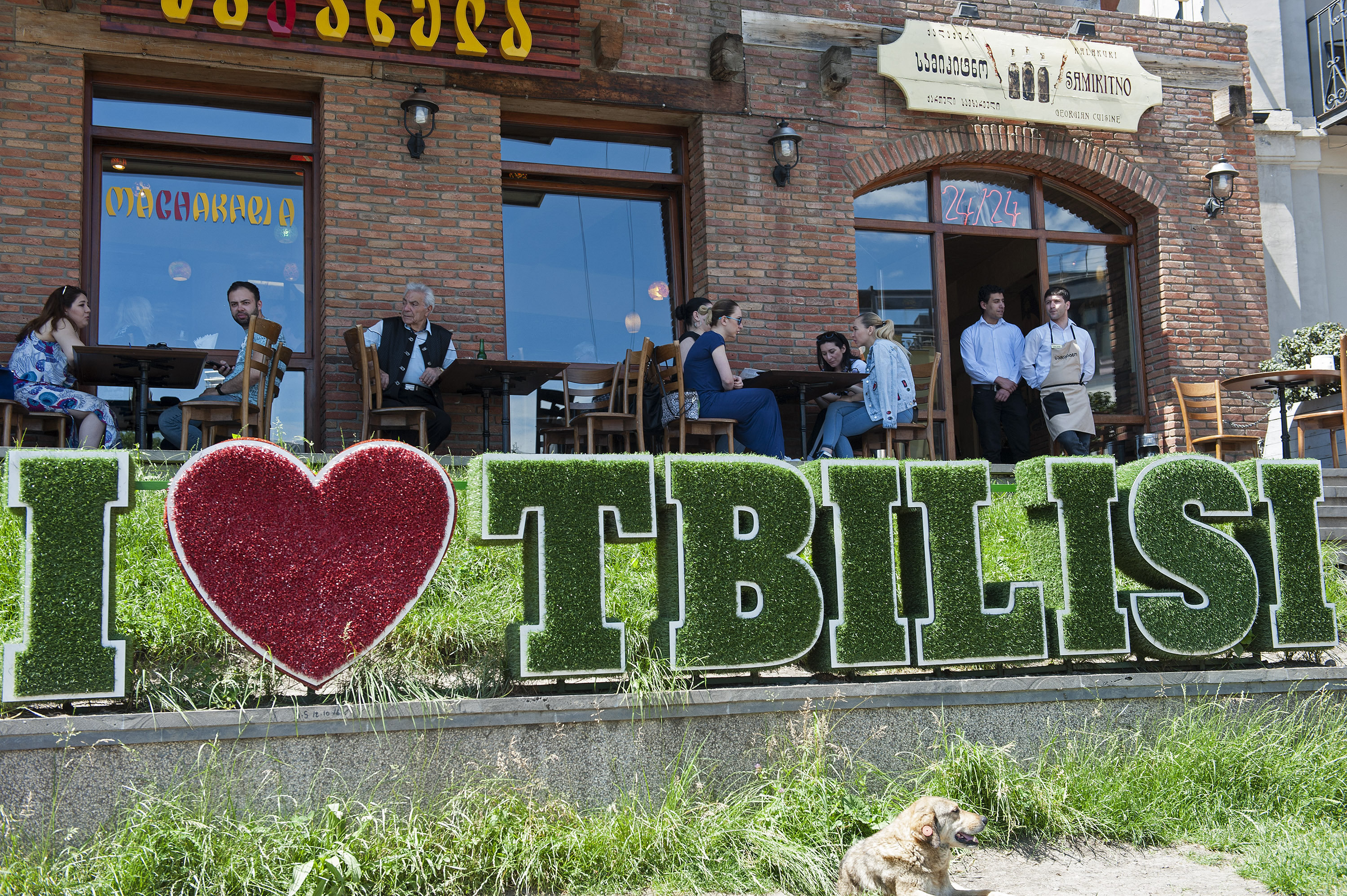 This day, we toured this beautiful city.
The main street of the city is called Shota Rustaveli – named for the author of the poem "The knight in the Panther's Skin", which is Georgian National epic. It runs towards Freedom Square with its raised golden sculpture of St. George, which replaced the one of Lenin.
We saw Peace Bridge, the glass and steel pedestrian crossing for the Mtkvari river and symbolized a brighter future. Metechi Church (12th-13th C.): Built by St. Demetre II, the Self-Sacrificer, this church is on a cliff, where St. Abo was martyred in the 8th C.
Sioni Cathedral (17th C.): In 1226 the invading shah beheaded 100,000 Christians who refused to abuse icons of Jesus and Mary as he watched from the church here, which was named for Mt. Zion in Jerusalem. Though Georgian Orthodox churches in this spot from the 6th C. were devastated numerous times by invaders and an earthquake, this church was restored in 1939.
Narikala Fortress (4th C.): An Arab emir lived in this hilltop citadel in the 7th C., which was expanded during Muslim domination that ended in the 12th C.
We rambled through the old Town with its old of houses rubbing shoulders - their balconies, draped in plants, almost touching over the narrow cobbled streets. By peering into tiny courtyards, we admired the eclectic mix of old houses with elaborated wood carved balconies. An open courtyard formed by U-shaped dwellings with balconies was used for women to do their laundry and talk.
40 Martyrs of Sebaste Monestary: The Holy Forty were 40 Roman soldiers martyred in Cappadocia for being Christians in 320 AD.
District of public bathhouses: Men can come every day, but women only on Wednesdays to these 40-degree C. sulfur springs. Mothers have chosen brides for arranged marriages here.
For lunch, we went to Tabla restaurant. First we have learned about traditional Georgian food and helped to make it: Chachapuri – bread with cheese, Khonkali – dumplings with meat, eggplants with walnut filling. Then we ate this and other Georgian delicacies for lunch.
After lunch, we went to Great Knesset Synagogue. This Sephardic synagogue built from 1893-1910 is 1 of 4 remaining in Georgia. During Soviet times there were 145,000 Jews, but now there are 500 remaining. Many emigrated at the time of independence due to the conditions, such as no electricity and having only bread and kidney beans to eat. The upstairs room is used for Holy Days, and the downstairs one for daily worship at 8 AM and 8PM for 125 people. Jews were traders on the Silk Road, and the Georgians were farmers and warriors. We were given a brief lecture by synagogue representative. I would prefer to meet with Rabbi but unfortunately we were not able too. After brief 10 minutes lecture, offer to buy their postcards, we left. Next time I will attempt to find better local contact and meet with rabbi instead of giving canned sale presentation. Synagogue was very beautiful.
We walked to David Baazov Museum of History of the Jews. It is located in former synagogue. The Museum was closed in 1951, during a period of anti-Semitic actions in the USSR. Museum was reopened again after independence by Government of Georgia. Many foreign donors and dignitaries have been drawn to this museum and research center.
Jews in Georgia trace their migration during the Babylonian captivity in the 6th C. We were told there is no antisemitism in Georgia. Except during Soviet times, it is was government induced antisemitism (quotas). But as I recall living in USSR, it was less antisemitism then in Russia and Ukraine. Georgians are tolerant people. During the war, Nazis did not advance to Caucasus, therefore, Jewish population did not have holocaust.
We also saw Beit Rachel Synagogue. This prayer hall is also called the Synagogue of the people of Akhaltsikhe and is located in a courtyard off of Leselidze St.
Dinner was at the restaurant "Bread House" where we had a pleasure of listening to Polyphony singing of "Trio Tbilisi" . There were toasts with "tamada" – Master of Ceremony, and each toast was a tribute to something (for peace, for women, for love, etc). The group enjoyed it.
Also Trio Tbilisi YouTube
May 29, Day 3.
Marriott hotel had very nice buffet breakfast with many Georgian specialties.
We started our touring with National Museum of History.
We saw there the oldest money it was Kauri shells from the Indian Ocean. Servants were buried with their masters for the after-life. One body was covered with 1500 gold ornaments. The Golden Treasure is a collection of goldsmith pieces dating from 3rd C. B.C. - 4th C. A.D. A necklace of small turtles had many tiny grains of gold attached to each shell. Sheep skins were placed in the water to collect this precious metal.
Museum had very informative section: "The Hall of Soviet Occupation". It documents Georgia's brief independence from 1918-1921 through the Soviet occupation until 1989 and their declaration of independence in 1991. For example, from 1921-1926 the Bolsheviks carried out a pre-determined extermination of the elite including clergy. Between 1921-1952 77,000 were shot and 390,000 deported. Upper floors have photographs taken from late 19th C. – early 20th C. from this area.
We left Tbilisi for Mshketa, a former capital of Georgia, one of the oldest city in Georgia located 20 km from Tbilisi at a confluence of Aragv and Mikvari Rivers. It's been populated since the second millennium BC. From the 3C BC until the 5th C AD, it was the capital of the Eastern Georgian kingdom of Iberia. Today, it is designated UNESCO World Heritage site.
We visited Jvari Church (586-604), on a hill overlooking the town an excellent example of early Christian religious architecture.
St. Nino, who converted Georgia to Christianity, erected a cross on the site of a pagan temple. Her mother was a sister of the Patriarch of Jerusalem. When Nino saw human sacrifices to a pagan god, she prayed, and a heavy hail destroyed the statue. She slept under a berry bush and began healing people including the queen. In 337 King Mirian lost his sight, prayed to Nino's God, was healed, and proclaimed Georgia to be a Christian nation. People were baptized where 2 rivers converge below.
We went to the cemetery near Mtskheta to see some leftover of ancient Jewish graves but unfortunately, they were moved by archeologist to some museum in Tbilisi. We still did a quick walk through the cemetery. We learned that in the Bronze Age dead people were put in the embryo position, placed in pottery jars, and covered with dirt.
In Mshketa we also saw Svetitskjoveli (Life-Giving Pillar in translation) Monastery and Djari Church (1010 A.D.): Located in the past capital of the Iberian Kingdom kings were crowned, wed, and buried here. The Cathedral was built on the site of a Zoroastrian temple to mark Georgia's 337 A.D. conversion to Christianity. A 13th C. small church was built within it as a replica of the Holy Sepulcher in Jerusalem. The legend says that Eliozi and a friend witnessed Christ's crucifixion, bought His robe from the soldier, and returned to be met by his sister, who upon holding it died. Where she was buried with the robe, a cedar tree grew, which was cut in the 4th C. to make 7 pillars for a church. Due to St. Nino's prayers the 7th became a column of life, giving healing for those in need of it. It is one of the best examples of Georgian Renaissance Church Architecture, and the coronations and burials of Georgian Kings took a place here.
Gori: We continued to Gori, Birthplace of Stalin and visited Stalin Museum. Stalin was Georgian and his real name was Djugashvili. Stalin is his revolution name means "Steel" in Russian. I was wondering how Stalin is presented in Georgia and why Georgians decided to make a museum since they suffered from Stalin as well. Some people say: why to commemorate such infamous man with museum. Hitler does not have it. I let you to contemplate on it. The Georgian decided to have it and tell the truth, just facts. It is a history after all. The guide gave us a tour without going into digression, facts about his life. There also was Stalin's personal railroad car which he traveled in the Soviet Union.
Another event connected in Gori: August 13, 2008 Russia bombed the military base in Gori built by NATO killing 2000 and started a war which ended August 22. As result, Russia occupies regions of Abkhasia and Ossetia until this day.
So since the collapse of the USSR, Russia has fomented several conflicts across former Soviet republics. Several regions in Georgia, Moldova, and Ukraine are still de facto occupied by Russia: the territorial entities are fully controlled by Russia, the Russian troops are deployed there officially as peacekeepers or unofficially under cover of Russian denials. Occupation is a tool of control to keep the conflicts frozen, stopping Russia's neighbors from joining the EU and NATO.
We continued to Uplistsikhe (Fortress of God)/Cave City (10th – 6th C. B.C.).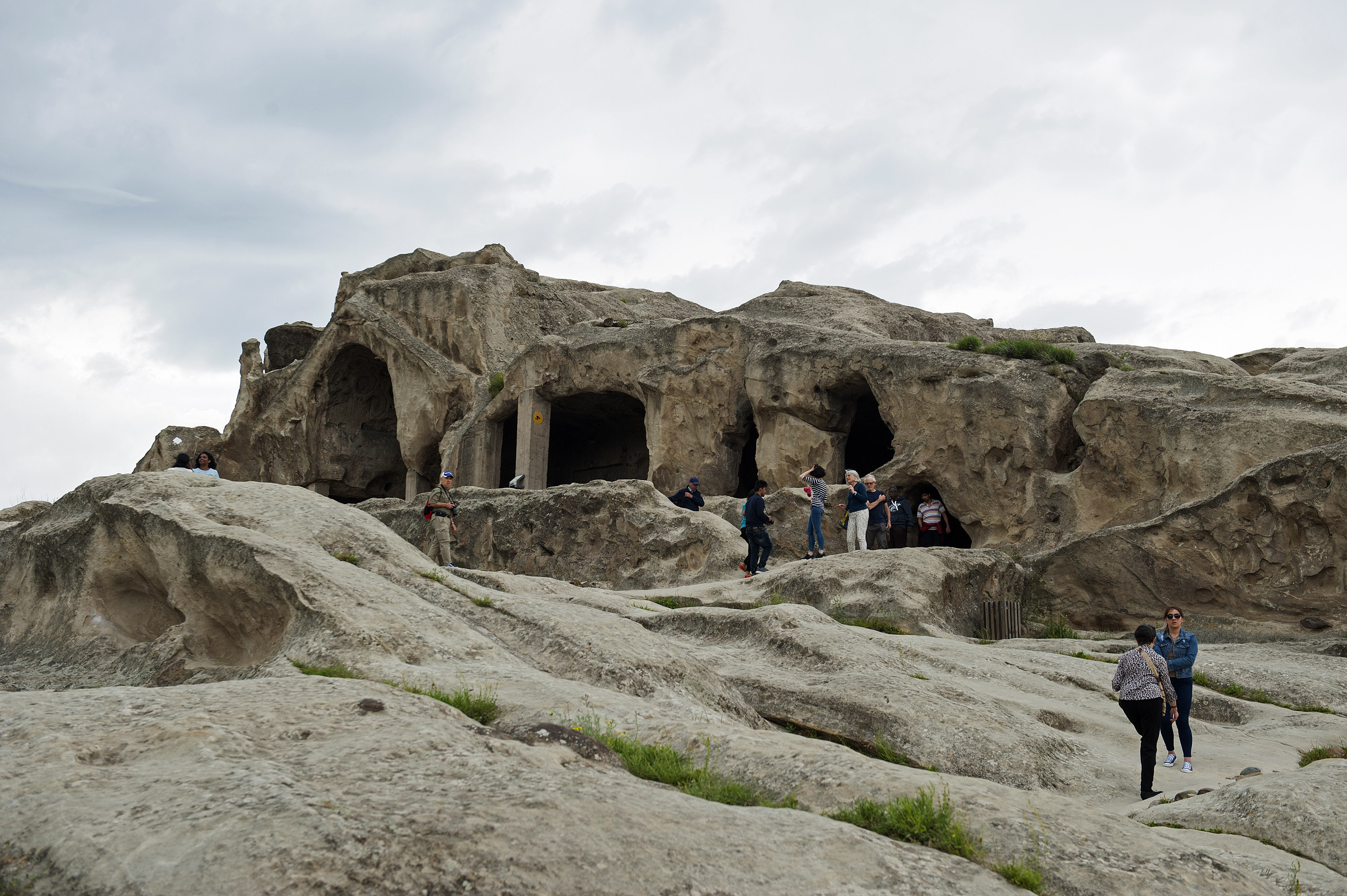 Back in the first millennium BC it was a flourishing city situated on Silk Road. Ancient streets, doorways, lanes, and stairs in this rock-cut architecture connected many parts of this community surrounded by fortification. Pits were dug to make animal sacrifices and for storing water and grains. Slaves used to carve the ceiling of the theatre won their freedom and got gold, if they worked hard. This community also had other big halls, churches, a wine press and cellar, bakery, and jail, which was by the "main street" to set an example. A tunnel was cut to supply water during a siege. Above is a basilica rebuilt in the 18th C.
It was a little bit difficult to walk on rocks but we made it before rain started, then rocks became slippery.
We left for Kutaisi, second largest city in Georgia, former capital of the Colchis Kingdom. We saw Bagrati Cathedral there and Gelati Monastery. The cathedral is considered the symbol of united Georgia and was completed in 1003 A.D.
Gelati Monastery (1106 A.D.): From the 12th C. the kings of united Georgia were buried here. The complex includes 3 churches, a bell tower with a spring, and an academy. It was the most important spiritual and educational center in medieval Georgia. Goldsmiths created icons.
King David IV, also known as King David, the Builder, of the Bagrationi dynasty, was the King of Georgia from 1089 until 1125. He interviewed students from different countries to choose 100 and hired Greek scholars to teach. The trivium (geometry, arithmetic, music)/ quadrium (grammar, philosophy, rhetoric, astronomy) principle of study was used. He instituted strict reforms, for example, a drunken soldier was dressed like a woman, put on a donkey backwards, and paraded through town. David met with corrupt bishops, who as rich nobles inherited their position, poisoned them, and chose those qualified. He wrote "You are Divine", the national anthem. The reigns of David (1089-1125) and his granddaughter, Tamar (1184-1213), are described as the Golden Era. Many of the greatest sacred Christian objects were stolen from here, but manuscripts dating from the 12th C. have been preserved.
We had lunch in a nice setting, restaurant in Zugdidi with traditional Georgian dishes, great salads and finished with chicken meat and potatoes. Desert was fruit and tea or coffee.
We were supposed to overnight in Kutaisi but due to World Rugby Championship, all hotels were booked. We stayed overnight in a quiet spa town Tskaltubo about 30 mins from Kutaisi. We had quiet dinner at hotel. We met New Zealand rugby team players who also decided to stay in quiet place. Dinner was from the menu and I liked a stew in a clay pot from veal with mushrooms, onions and potatoes.
May 30, Day 4.
We left Tskaltubo for long drive to Svaneti, Caucasus high mountain region. Originally it was a part of the Kingdom of Colchis. I've read about this remote region and it fascinated me. This is unique land and traditions remained unchanged for centuries.
The 5,000m, snow-capped peaks and small villages make this area a hiker's paradise. Isolated from Arabs and Mongols this area has towers 3-4 floors high, which were built at a slight angle toward the slopes to protect the town from avalanches and from vendettas that lasted until no members of a family were left. Many pagan practices are mixed with Christian ones. Priests came to preach the Bible but were killed, and elders of families conducted services for religious holidays in mostly 8th-9th C. basilica churches.
The towers survived during earthquakes, avalanches and landslides. These old towers still protect people from the severe climate and natural disasters.
We arrived in Mestia late afternoon and settled in our hotel, Old Seti. It is a small lodge type mountain hotel. We enjoyed stroll of this small Alpine town, brisk cold air was invigorating. We returned to our hotel for dinner. There was group of Israeli tourist with whom we chatted in the living room. Dinner was family type with many Georgian dishes served. There was house wine but it was not that good. We ordered bottles of Superavi, which by this time we acquired taste for it. Resident's cats were looking at small window and we shared our dinner with them as well!
We walked a little more after dinner and went to bed and slept soundly well. The open windows with view of the snowcapped mountains gave us peaceful state of mind. We were on altitude 2000 feet but it did not affect me at all. I had medication from high altitude but I did not use it.
May 31, day 5
Next morning, we had nice family style breakfast at hotel, when everything was brought to the table. Coffee was only instant, so some of us found coffee shop nearby and made friends with its owners – young people from Ukraine. https://www.facebook.com/ERTIKAVA/?pnref=story . Highly recommended for good coffee and conversations.
After breakfast, we visited Margiani House Museum in Mestia – ancient Svaneti house which is now a museum, owned by Margiani family. The house is adjacent to the tower.
This typical Svan house was for people and animals. Carved openings in the main room gave animal's access to feeding troughs. The hearth in the middle was considered sacred, and ashes and doors were taken to a new residence. The family of 3-4 generations slept on bunk levels, but a small building outside provided a place for intimate encounters. The patriarch sat in a carved chair, and men on benches. He acted as judge and added a notch to his scepter for each problem solved in peace. The bigger the dowry chest the more status the potential bride had. A small room just for birthing children included a dagger used to cut the cord, and food was extended to the woman on a stick.
Some of us climbed 6 levels of steps in the tower to the top; the reward was a beautiful view of the other towers. The entrance was on the second level, which was accessed by a ladder and removed when enemies came.
We went to Historic Ethnographic Museum in Mestia. It is very well done, modern museum. It had collection from the Bronze Age to the 12th C, Bronze icons, crosses, and various documents from 14-15c. The Adishi Gospels (897) and Silikhani Icon with a relic of the Golgotha Cross inserted in it are examples of the global significance of this collection.
There was also interesting photo exhibit of Italian photographer Vitorio Selo who traveled in Svaneti and took photos of villagers in late 19 C.
We came back to the Mestia for lunch in one of the town restaurants, walk around the town. Our walk yielded some more interesting sites: King Tamar sculpture: This female king's figure on horseback has 4 symbols (pagan sun, crescent, cross, menorah) on the base with the inscription, "We all are of the same blood." Legend says she had a tower residence here.
Then we saw Tower of Love: This isolated tower by a stream is for newlyweds.
We had time for well-deserved nap. After relaxation and the dinner, we walked again and admired lit towers after sunset.
June 1, day 6.
After breakfast, we set for a long drive to Ushguli. The distance is not that long, but the mountain roads are treacherous and winding. Instead of our usual 17 seater Mercedes Springster bus, we went in two local 4 wheel drive jeeps.
Ushguli (2400m.) community at the base of Mt. Shkhara (5068m.) is one of the highest in Europe, located in a gorge surrounded by peaks this area is known for its 30+ protective towers. One the way, we enjoyed deep gorges, mountain rivers, snow capped peaks, spectacular valleys and medieval mountains. We stopped few times to take photos. Sometimes we had to wait for horses and cows to cross the road.
We stopped at LaMaria Church, at the foot of majestic splendor of Mt. Shkhara. We had lunch in local guesthouse, served by its nice friendly owners, local home. The food was very good and warmed us up. It was a bit chilly. After lunch, some of us went for an inspiring walk toward the glacier until they came to a deep creek-crossing and decided to come back!
Meanwhile we visited local school where we distributed gifts we brought for children. We were humbled by these well behaved children who wanted to practice their English. The school did not have much furniture in classes. It makes one
think and appreciate what we have at home.
We went back to Mestia, another 3 hours or so. On arrival, another walk before dinner, packing and then sleep.
June 2, day 7
We had such a good time in Svaneti, but it was time to leave. On a way we stopped at Inguri Dam, the world's second highest concrete arch dam is 891' high. Georgia can fully switch to wind and hydro power, since 77% of the electric energy generated comes from water.
Next stop was Dadiani Palace in Zugdidi, a castle like palace of Dadiani princes. This museum is a former Palace of Samegrelo Queen Ekaterine Chavchavadze – Dadiani in 19C. Dadiani were an ancient aristocratic family known for their relationship with Napoleon Bonaparte. One of Dadiani princesses was married to Askil Murat, Napoleon's nephew. Therefore Dadiani princes received a lot of relics connected with Napoleon by the right of succession. For example, some personal things and pieces of furniture of the Emperor and one of his death masks (two others are in France and England). It all had been kept in the family museum of Dadiani Palace . There is here even a more significant relic – the Blessed Virgin shroud. According the legend the shroud was taken from Byzantium to Western Georgia by the ancestors of Dadiani princes in the 15 th century. The shroud can be seen only during the big church holidays. On display, we saw a collection dating from the Stone Age to Christian relics, medieval weapons, and fine works of art.
On the tour, we learned the history of Georgian Aristocracy, which intermarried with Russian and French noble families.
The manor of Dadiani princes is also known for its garden. To plant it Princess Dadiani, the ruler of Mingrelia, (maiden name Chavchavadze, sister of Nino Chavchavadze, widow of Alexander Griboedov) invited eminent European gardeners and ordered rare plants from Europe in the middle of the 19 th century. Today Dadiani garden is called Zugdidi Botanical Garden. Its total area totals 26.4 hectares. Some trees in the garden are about 200 years old are unique for Euroasian continent.
We continued to Kutaisi and on arrival visited The Great Synagogue, also called Gaponov Synagogue. It was built in 1885 and is the second largest synagogue in Georgia, right after the great synagogue in Tbilisi. Nowadays it serves a small, local Jewish community.
Boris Gaponov was a translator from Georgian and Russian into Hebrew. He was born in Crimea but his family moved to Georgia during WWII and stayed there. Gaponov was born in Eupatoria, Crimea, but grew up in Kutaisi, Georgia, where his family moved during World War ii. In 1969 his translation of the greatest masterpiece of Georgian medieval literature, The Man
in the Panther's Skin (12th century) by Shota Rustaveli, was published in Israel. He emigrated to Israel and published his translation of A Hero of Our Time by Lermontov, which was also highly praised by the critics. In 1972 he received the Shazar Prize for refugee repatriate writers, but died shortly after. There is the bench and statue of Gaponov at entrance of the synagogue. I believe he contributed money for restoration of synagogue, that's why Synagogue is called with his name or maybe it is because synagogue is located on the street with his name. Anyway, interesting personality.
We went to Tskaltubo, where again we stayed overnight. We checked on our friends 😊 New Zealand Rugby team who said were doing well in the world championship. Dinner was again at hotel's restaurant. Next time I will be in Kutaisi, I will book in advance and stay in the city.
June 3, day 8
We went back same route to Tbilisi. On the way we stopped at Ubisa Monastery Complex circa 9C. The St. George Basilica has murals to teach key Biblical events painted by Damiane (14C), who was influenced by Byzantine art. King Tamar came to stay in the tower during her 1161-1213 A.D. reign. From ages 13-17 she co-ruled with her father, spoke 12 languages, and ruled with an iron fist expanding her kingdom to be 4 times larger. She developed arthritis from praying on her knees.
We stopped in town Telavi for market where we bought some Georgian spices. Their signature spice is Khmeli-Suneli used for meat and poultry and some vegetables.
We arrived around 5pm to Tbilisi. Before dinner, we walked from our hotel to huge open air flea market and bought some souvenirs. There were interesting antique, soviet memorabilia and local painters exhibiting art.
I had dinner with my Georgian business partners at local restaurant Azarpesha owned by American. They had Georgian/European menu, and good organic wines.
June 4, day 9
We went to Signaghi. Given town status in 1801 this cute town with cobblestone streets and second floor balconies was a fortress from the 8th-14th C. and has a 4km walkable wall with 23 towers. Each tower bears the name of an adjacent village, and there are 5 gates.
We continued to Kakhetia, wine country. Georgia is a country of winemakers and the best wines come from the fertile easternmost part of Georgia, Kakheti. As any wine country, the frequent sites along the road are rolling hills, green pastures and vineyards. Very much like Napa Valley or Tuscany.
We visited the Kahreba winery where we learned history and process of Georgian wine-making.
The Soviets built 15 connecting tunnels during WW II for the military, but they were never needed. Now the tunnels are lined with wine bottles of 13 different wines made from 16 different grape varieties. The main importer is China. The unique Georgian process uses people to crush the grapes, but the juice, pulp, and some leaves are put into a large clay vessel in the ground for 7-10 days for fermentation without sulfates, yeast, sugar, or blending of grapes. The mast settles to the bottom filtering the juice, which is removed for additional fermentation (6 months for white and 3 months for red), is put into another clay vessel, and is sealed. This wine has a 12% alcohol content, whereas the European style has 14.5%.
The tunnels were cold and they give you a blanket to wrap for warmth. The tour took about 1 hour and included wine tasting. It was kind of commercial place. Next time, I will visit more personable winery but this is was useful introduction.
We had lunch at restaurant in the winery and then tried our hand in making Georgian bread in a tandoori and churchkhela made by repeatedly dipping a string of walnuts into a thick syrup of grape juice and flour led to preparing them ourselves.
The lunch was Mtsvadi – Georgian BBQ and we got large skewer each with delicious roasted meat (shashlik).
After winery, we visited Tsinandali family estate, which once belonged to the 19th century aristocratic poet Alexander Chavchavadze. The residence consisted of summer home, garden and winery, featuring another wine tasting – this time Tsinandali wine. That was an interesting family, for example Prince Ilya Chavchavadze.. This writer listed 3 markers of Georgian identity as territory, language, and Christianity. As part of his patriotism he created the first bank to help the poor. Nobles lost land by gambling, which he acquired. He was the first to set slaves free, which made the other aristocrats angry. Ilya lived very simply and provided money to educate poor children and children of noblemen who had lost everything. When the poor gave money to purchase land, he
would then buy more land for the needy. After his assassination, he was mourned for his inestimable contribution to Georgia's revival.
We returned to Tbilisi and enjoyed our last night dinner in the city.
June 5, Day 10
We left Tbilisi in the morning for about 1.5 hour ride for border crossing into Armenia.
Border crossing was uneventful. We had to get out of the bus, go inside the terminal, pass exit customs in Georgia, back on the bus and drive short ride to border terminal of Armenia. Our Georgia guide Lela got clearance and went with us on neutral territory and we communicated with our Armenian guide Katar by text. She was waiting for us in Armenian border. I was worried but it all worked out fine.
So we are in Armenia now!
Armenia
Armenia is also the former Soviet republic. Among the earliest Christian civilizations, it's defined by religious sites including the Greco-Roman Temple of Garni and 4th-century Etchmiadzin Cathedral, headquarters of the Armenian Church. Khor Virap Monastery is a pilgrimage site near Mount Ararat, a dormant volcano just across the border in Turkey.
Nagorno-Karabakh: This disputed territory populated by 95% Armenians is autonomous with its own government, currency, anthem, and flag although it is officially since 1921 a part of Azerbaijan under international law. Their government has given assistance to over 40,000 people mostly Armenian refugees fleeing Azerbaijan, as well as incentives to have larger families. The border to Azerbaijan and its ally, Turkey, are closed. In 2005 10,000 cross stones were broken and thrown into the river by Azerbaijanis desiring to remove evidence of the area once being Armenian territory.
First stop was Hagphat Monastery. Queen Khosrovanush of the Bagrati dynasty ordered its construction (976-991 A.D.). The key difference between the Georgian Orthodox churches and these Armenian Apostolic ones is the absence of an iconostasis, which symbolizes the separation of God and His Word from lay people. Until the 18th C. icons, paintings, and crosses were also not used. A gavit, burial place for notables, is often the room entered before the sanctuary. The baptismal font is also there, and those who hadn't confessed their sins and been baptized weren't allowed to enter this holy place, the Church of the Holy Cross. A spring enters the refectory, and the water is believed to be holy. Small rooms in the St. Gregory Church are for private prayers by pilgrims and hermits. A gallery of stone crosses (khachkars) dating back to the 11th-13th C. leads to the Scriptorium where manuscripts were translated and stolen by invaders. Besides being grave markers, these crosses could be dedicated when a battle had been won, for crop protection, or with the belief that this could save a soul. The 3 circular designs at each point of the cross represent the Trinity. Armenian flag colors mean: red (highlands/bloodshed), blue (sky/wish for peace), gold (wheat/hard work)
We stopped at Odzun village at the home of Sergey and Azniv. This hospitable couple served lunch and showed us their garden. We saw behives and Sergey explained that his bees make honey from alpine plants, and each hive produces 15-20kg, depending on the weather. Bee pollen is used to make vodka worth $100/liter.
We were headed to Tskaltubo for overnight, but we made one more stop in Russian village. There were about 5 villages with Russian names: Filoetovo, Lermontovo, Bereski. The villages looked well maintained and prosperous.
These Russians are called Molokans (means in Russian "milk drinkers" who settled in Armenia in 19C after expulsion by Katerine the Great because they followed their own religion. They settled in Armenia and Turkey. Today they constitute 2% of Armenian population and consider themselves "true spiritual Christians". They are a closed community of 4000 and don't marry non- Molokans. I was glad we were invited in their home. Molokans have restrictions on make-up, trousers for women, telephones, and televisions. Women wear head covering. They grow cabbages and carrots and are known for their pickled vegetables. When there is a need, money is collected house to house.
Natasha and Michail were excellent hosts. We answered all our questions re: their living and religion. For example: They do not recognize saints and icons like other religions. They say, pray direct to the gods. They believe Christ is the son of god, and Trinity is the Father, son and the Holy Spirit. For Holy Week, they gather every morning and evening in the prayer room. They fast depending on the phase of the moon. Everyone reads the Bible. During prayer services the pastor reads verses and gives a message, which is then discussed, or he asks someone else to lead. The service lasts from 2 ½-3 hours. Since the New Testament says that drinking is not good, they only take bread as a symbol of the Last Supper. Children are baptized 7 days after birth as a ceremony without water.
The village had nice houses, some wooden in style of Russian traditional house "Izba", the other are modern houses from tuf – local stone. It was very interesting to see how traditions have not changed for 200 years here.
The "tea" turned to be a full meal, with Russian Samovar freshly brewed tea, blinis, self made jams, and pirogi. The hosts showed us photos of their adult children who married and live in Russia now, also within Molokan community.
It was very interesting opportunity to visit this community.
We left for our hotel in Dilijan. At 1200 m altitude, this resort town is known for its English-speaking international high school for 11th-12th grades, United World College, which is connected to 14 others around the world. A diploma grants entrance to any university. Students come here from 40 countries and only 10% are from Armenia. The cost is $35,000/year, but 16% of the students have received scholarships. Local students can go to English classes to learn pronunciation and can use the pool at certain times.
The town had nice historical center.
We stayed overnight Dilijan resort, a huge complex, Soviet type hotel. The dinner was cafeteria style. Spoiled by todays lunch at Sergei and Molokans tea, we did not have much appetite, and it was good since the dinner was not that impressive. Hotel was OK, but lacked the "soul". Oh well, it is just one night. Next time, I will stay in the historic center in guesthouse..
June 6, Day 11.
Next morning, we left after breakfast, for Lake Sevan.
First stop was Sevanavank Monastery. Located on the peninsula of Lake Sevan, the Holy Apostles Church founded in 1874 was one of the first built after 200 years of Arab Islamic domination. The 13th C. basalt khachkar (stone cross) in the Mother of God Church depicts Christ crucified flanked by Mary and John.
We enjoyed Caravanserai. This 14th C. Silk Route hotel is one of the best preserved in the world. Most in Armenia have been destroyed by earthquakes. The defensible, single entrance lead into a 3-nave chapel. Light enters from ceiling openings. Animals were kept in side cells, and rooms for travelers were at the far end.
We continued to the Noravank Monastery. Although churches were here as early as the 4th C., a brotherhood of monks was established in the 12th C. This complex in red cliffs was damaged by an earthquake and reconstructed from 1988-1999. The Mother of God Church (1339 A.D.) has a rectangular burial vault on the lower level and a cross-domed church on the upper level reached by ascending narrow steps cantilevered up the outside face of the façade. The symbolism is rising in rebirth toward Heaven. Christ flanked by Peter and Paul is seen above the entrance.
In December, 1988 an earthquake in NW Armenia resulted in 25,000 deaths, 20,000 injured, 500,000 left homeless, and extensive infrastructure damages. This devastation was compounded by the collapse of Soviet industry after 1991.
Next we visited Khor Virap Monastery: St. Gregory the Illuminator preached to Zoroastrian pagans, which was forbidden. St. Gregory's Church covers the entrance hole from which a 27-step ladder leads down 6.5m. to the underground chamber where Gregory was imprisoned for 13 years. Although a widow brought him water and food, it was still a miracle that he survived. Then his captor, King Trdat, became possessed and his sister had a vision of Gregory, who was presumed to be dead. Gregory delivered the king, who adopted Christianity in 301 A.D. as the state religion, and was the first to do so.
The scenery was spectacular, and we were lucky Mt. Ararat (16,946') in all its majesty. Although officially in Turkey since 1921, this mountain topped by Noah's ark is part of Armenia's coat of arms. In the past this peak was considered holy and permission was required to climb it. Genesis 10:3 lists Togarmah as a great-grandson of Noah, and the legend says that Armenians are descendants of his son, Halik. Babylonian writings dating from the reign of Nimrod confirm that Halik killed him in battle with an arrow that pierced Nimrod's armor.
In the evening, we arrived in Yerevan, the capital of Armenia.
June 7, day 12,
Founded in 782 B.C, Yerevan has a lower level along the river and an upper plateau level (1200m.) with its Mother Armenia sculpture, which replaced one of Stalin. During Soviet times the city grew 30 times larger.
We visited Matenadaran – Manuscript Museum: Although it houses 18,000 Armenian manuscripts fewer than 1% are shown. Among the treasures are the oldest surviving manuscript (989 A.D.), the earliest printed book in Armenian (printed in Amsterdam, 1666), and a copy of Ptolemy's map which shows Armenia when it extended from the Black Sea to the Caspian Sea. Illuminated manuscripts to aid worship included extensive sets of pictures, especially in the 4 Gospels, Genesis, and Exodus. Donors names were added with the belief that this act was a pledge for salvation. The first book translated into Armenian (5th C.) was the Bible. Manuscripts were written on animal skins and papyrus, as well as palm leaves and the back of birchbark until the 10th C. A religious map shows Jerusalem at the center of the world. A statue of Mesrop Mashtots, the inventor of the Armenian alphabet, is before the entrance. Translators opened a wave of education that produced schools and libraries along with scriptoriums to translate Christian literature.
After this, the group visited State History Museum: This collection is best known for its Bronze Age burial chariot uncovered at Lake Sevan, the oldest leather shoe (3,500 B.C.) found in a cave near Noravank Monastery, and a mosaic (1st C.) from the bathhouse by Garni Temple. Churches were destroyed during the Genocide, but migrants saved religious objects and later returned them. A pomegranate shape with seeds was used in religious art to represent Christianity as believers united together. Birds were symbols of the Holy Spirit as intermediator between God and His people.
I also was able to see at this time, Art museum with impressive collection of European, Russian and Armenian masters. I did not know that famous marine painter Aivazovsky was not Russian but Armenian! I also found there works of Kandinsky, Donatello, Rodin, Chagall and other prominent artists.
After lunch, we visited Cascade.
Designed to be a monumental artificial waterfall with fountains and garden areas on different levels this arts center has a preceding park and an interior escalator with displays of modern art sculptures donated by the Cafesjian family. At the top in Victory Park Mother Armenia's sculpture (22m.) stands above.
Cascade is amazing site, like open air free modern art museum. The best is escalators inside, which are free and take you easily to higher levels with beautiful views and you can admire art sculptures everywhere. On bottom level between beautiful flower beds, there were Botero Sculptures, and next level, Chihouli glass works.
The Cascades, were built in the 1970s, or rather began construction, since they were never finished. A huge monument nonetheless, these massive white stairs climb much of the way up the hillside, linking central Yerevan to the WWI monument and platform on top, and behind it, the neighborhood called Monument.
The stairs you climb are surrounded by beds of plants and flowers, and there are fountains and landings all the way up.
The War Museum built to commemorate Soviet Armenia's participation in WW II and victory over the Nazi army. Holding a sword in her hands she represents peace through strength, and before her is an eternal flame burning for the WW II dead.
I wish we had more time to explore it.
Next stop was Genocide Museum.
In an 1878 treaty Turkey agreed to British reforms to improve persecution of Armenian Christians, but demonstrations for greater autonomy and against taxes paid to Kurds led to weeks of slaughter. The pogroms of 1894-96 killed 300,000 Armenians. Turkish nationalism and pro-Islamic/Sharia movements' evolved, as well as Russian nationalism, resulting in closure of Armenian schools and libraries plus confiscation of church property. In 1915 diaspora Armenians fighting for the Russians against the Ottomans angered the Ottomans to the point of massacring the 60,000 Armenians fighting in their army. Criminals were released to take part and told that killing Armenians would get them to heaven. Forced marches without water and food and massacres, especially of leaders and clergy, ended in the extermination of 1.5 million.
Terrible torture and death techniques included: mutilation, horseshoeing human feet, bayoneting/burning/or burying children alive, drowning, mass burning of live people, amputation, target practice on the wombs of pregnant women, throwing groups of people off of cliffs or bridges, squashing children under hooves/tying their hair to horsetails/and dragging them, no water or food, medical experiments on orphans, and testing typhus vaccines.
The approach to the memorial is a series of trees planted by sympathizers. The monument has a 44m. stele split to represent this country being split between Russia and Turkey yet surviving to experience a rebirth. To its left is a ring of 12 inward-leaning basalt slabs encircling an eternal flame, which is approached with a bowed head due to narrow, descending steps.
The way to the museum passes a 100m, long wall carved with the names of places where massacres are known to have taken place.
Inside the museum are displays of German (allies fighting with the Turks) photos and officials' reports of maltreatment. The Armenian Christian women were raped, and tens of thousands of girls were taken to harems and subjected to forced conversion (Islamization). Six orphanages were established at different places in the empire, and other orphans were given to Muslim families.
Missionaries saved orphans by dressing like Ottomans in Turkey to buy them. Henry Morganthau, the U.S. Ambassador in Constantinople, proposed a relief committee to raise funds to support the survivors of the genocide. The American Relief Committee became the Near East Relief (NER) through a congressional referendum (1919) and met the needs of 132,000 orphans until they were old enough to be trained to be self-sufficient. A Jewish author, Franz Werfel, was so moved by hearing orphan's stories that he wrote 40 Days in Musa Dagh (Moses Mountain) in 1933. On this mountain a flag was raised by 5000 with the hope that a passing ship would see it. A French ship did stop and saved 4,500.
Aurora Mardiganian (Arshalouys Martikian) wrote her story, Ravished Armenia, The Christian Girl Who Survived the Great Massacre, which was published in December, 1918 and made into a silent movie. In 1919 30 million dollars was raised to support 60,000 orphans as a result. The following are her words," I saw my own mother's body, its life ebbed out, falling onto the desert, because she had taught me that Jesus Christ is my Savior. I saw my father die in pain, because he said to me, his little girl, "Trust in the Lord; His will be done." I saw thousands upon thousands of beloved daughters of gentle mothers die under the whip, or the knife, or from the torture of hunger and thirst, or carried away into slavery, because they would not renounce the glorious crown of their Christianity."
Aurora Humanitarian Initiative includes the Aurora Prize, Aurora Dialogues, Aurora Humanitarian Index, Aurora Gratitude Scholarships, and 100 Lives. Begun in 2015 the Prize will be presented for 8 years (representing the length of the Genocide) to an individual or group to recognize the impact their actions have made preserving human life in the face of adversity, risking their health, freedom, reputation, or livelihood. The Dialogues address the impact of global migration and focus on media to bring attention to their stories and on business ideas for development.
Some German officers, who served in the Ottoman Empire influenced the formation of Hitler's ideology. Even he said later, "Who today remembers the Armenian Genocide?" Most U.S. states have recognized this tragedy, but Turkey has not, saying the Armenians were just casualties of war.
That was very powerful museum and monument, which leaves same feeling as visiting Jewish holocaust sites..
After Genocide Museum, we also visited Yerevan Brandy company, known as Ararat cognac factory, the leading enterprise of Armenia for the production of cognac. It was founded in 1887, during the period of the Russian Empire. After the Sovietization of Armenia, the factory became a state-owned enterprise. In 1999, the government of independent Armenia sold the factory to the French Pernod Ricard company for distilled beverages. The variety of the company's cognac products are labeled and publicized as ArArAt.
June 8, Day 13,
We visited Etchmiadzin – spiritual center of the Armenian Apostolic church and the Supreme Patriarch, the Katholicos. The Etchmiadzin Cathedral was built between 301-303 A.D. after legend says Jesus Christ appeared in a vision to designate the location to St. Gregory, the founder and first patriarch of the Armenian Church. During the Genocide this compound became a center for 70,000 refugees in its district. A hospital and an orphanage were established here in 1919 and maintained by the U.S. based Armenian Near East Relief. The gate has sculpted figures of the apostles Bartholomew and Thaddeus, who came to Armenia to spread the gospel.
We visited Cross Armenian Unity: Handicapped and poor are provided with skills training in carpet-weaving, pottery, and painting, plus cooking and serving. Children (250) from 2-18 years old come after school to these workshops.
Next we came back to Yerevan to visit Mordechai Navi Synagogue, and we had meeting with Chief Rabbi Gershon Burstein.
This center of Chabad is the only synagogue in Armenia. The rabbi spoke of Jews coming 2000 years ago, but many wars led most to leave. Ashkenazi and Sephardic Jews worship together. Jewish merchants built a synagogue in 1901 for 10,000 families, but now there are 100 members, who are assimilated in mixed marriages. Rabbi Gershon's goal is to begin with children to teach them about being a Jew. He is in charge of kosher food production, and 7 plants send fruits and vegetables to other countries. Before government assistance began in 1995, the poor and elderly were fed 3 times a day. Now they cater kosher food for groups. The synagogue is on the third floor, an office and training room are on the second, and the library, bathroom, and kitchen are on the first floor.
We went for famous Garni Gorge, which is called "symphony of stones", we had to use jeeps since bus would not pass there. We saw Mercedes stuck there and our drivers helped to get it going. Not recommended to drive there in regular car.
On a promontory above the gorge the first-century AD Garni temple was seen. Along the sides of the gorge are cliff walls of well-preserved basalt columns, carved out by the river. This portion of the Garni Gorge is typically referred to as the "Symphony of the Stones."
Garni Temple: The pagan temple is Armenia's only Greco-Roman style structure and was perhaps a tomb for a Romanized ruler. After Armenia's conversion to Christianity in the 4th C., the rulers used this protected location for their summer residence. The site also includes ruins of a fortress, 3rd C. royal palace and bathhouse, churches from the 5th and 7th C., and the 9th C. palace of the Katholikos. The temple was destroyed in the 1679 earthquake but restored. A mosaic floor design of gods framed by fish has a Greek inscription, "We worked but did not get anything." in the bathhouse. From the first room with the fire clay pipes led into a series of rooms providing hot, warm, and then cool water. Our visit ended with a duduk performer inside the temple playing this double-reed wind instrument made from apricot wood.
Next and last stop was Geghard (Spear) Monastery: This monastery founded in the 4th C. was initially hermits' caves then it was partly cut into the rock and partly constructed. Something like Petra in Jordan. In 1923 the Governor of Azerbaijan destroyed it seeking converts to Islam. The family which later defeated the Muslims built the main cathedral in 1215. The mausoleum (1283 A.D.) for the next owners, the Prosh family, has a hole leading up to the lower wall of their gavit, which has ideal acoustics for a song to be heard below. One of members of our group, Marla sang of "Amazing Grace" In the 13th C. the spear that pierced Jesus Christ was brought here but now is kept in the Etchmiadzin treasury. Animals are brought for sacrifice after Sunday worship. In the Chapel of the Mother of God the face of Adam is carved under the cross representing Christ as the second Adam and a new beginning for Christians. A spring flows into the first cave church and collects in a small pool.
On return to Yerevan, we also visited Memorial for Jewish Armenian Holocaust and Genocide: The inscription says it all, "To live not to forget."
That concluded our fascinating trip to Georgia and Armenia. These are wonderful, exotic, undiscovered by mass tourism countries, with beautiful scenery, friendly people and interesting history.
Special thanks for Marla Black for taking detailed notes on the tour which helped us tremendously to write this report
Click here to see our slideshow.
Schleppers Club Georgia Armenia
Start your trip to Tbilisi, Georgia
Let us help you plan your trip
Popular Posts